Heidi M. Mantere viulu, laulu / violin & vocal
Johannes Niskanen harmonikka / accordion
Ohjelmisto on laaja valssien, tangojen ja vokaalisävelmien (su, en) siivittäminä svengaaviin tunnelmiin.
Music from valses, tangos and vocal music (finnish, english) to swinging moments.
Yhteistyö  vuodesta 1992 alkaen takaa laadukkaan musiikillisen ja visuaalisen kokonaiselämyksen!
Duo started in 1992 and offers quality moments thru music and visual team work.
Kysy lisää/ Ask for more: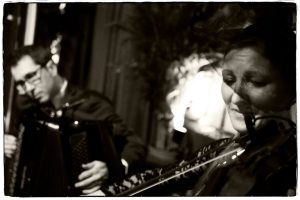 Kuva: Pasi Hytti